Netflix
TBA
It's Always Sunny in Philadelphia Season 13
Netflix Release Date
The tv series season It's Always Sunny in Philadelphia Season 13 is already released on Netflix in the UK. The upcoming Netflix release date in the USA is to be announced.
Buy Now
It's Always Sunny in Philadelphia Season 13
TV Series Season
The Gang Returns… mostly…. in the 13th season of the FXX original comedy series "It's Always Sunny In Philadelphia." Mac (Rob McElhenney), Charlie (Charlie Day), Dee (Kaitlin Olson) and Frank (Danny DeVito) return to their duplicitous, scheming ways at Paddy's Pub, while Dennis (Glenn Howerton) takes on the new role of father in North Dakota. Last season, the Gang experienced new highs — Mac acknowledged his sexuality and Charlie convinced The Waitress, his longtime target of affection, to move in with him — and the lowest of lows — Frank became the official beverage sponsor of a terrorist group, Dee helped a man reach rock bottom, and Dennis was investigated for murder. Even without Dennis Reynolds, the Gang has its hands full as Charlie hopes to have a child with The Waitress, Mac sets out to understand his newfound sexuality, Dee takes feminism to new heights, and Frank goes to great lengths for the Gang to experience the greatest moment in Philadelphia sports history — an Eagles Super Bowl victory.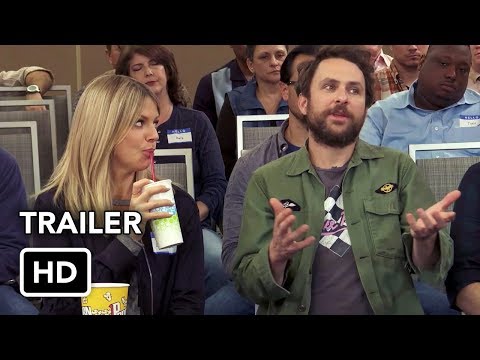 https://youtube.com/embed/_NLmdNUwkWc,https://youtube.com/embed/XIkmxakKpBg