Xbox Series X
3 Months Ago
June 29, 2021
Ender Lilies: Quietus of the Knights
Xbox Series X UK Release Date
The anticipated game Ender Lilies: Quietus of the Knights is already released on Xbox Series X in the UK.
Buy Now
Ender Lilies: Quietus of the Knights
Game
Explore a challenging supernatural world to haunting music by musical group Mili, whose credits include Goblin Slayer opening "Rightfully" and other anime franchises such as Ghost in the Shell. The group has created tracks for rhythm games enjoyed by millions, from "Chocological" and four others for Cytus to "Night Point Eight" and 18 more for Deemo. Lily, the last surviving priestess in a land devastated by an endless and oppressive rain turning people undead, awakens in a church with no memory of recent events. As she explores beyond the relative safety of the sanctuary, Lily will summon the spirits of purified undead to protect her on a journey to find the source of the rain twisting her home into a haunted shadow of itself.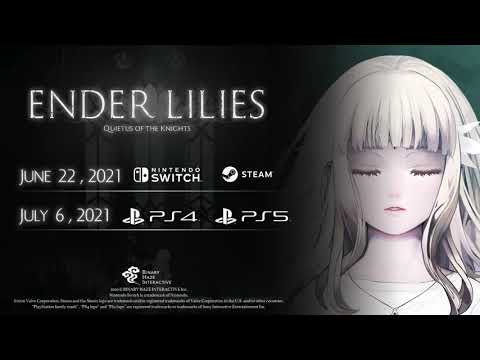 https://youtube.com/embed/0s0Vjubrr7o,https://youtube.com/embed/KqHewI5_cjo,https://youtube.com/embed/Mal1S2Glf0o